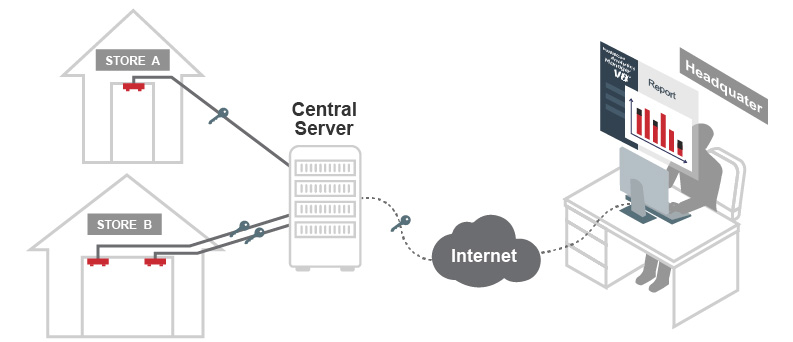 Our People Counter 3D plus is an electronic device used for counting people who are coming into the premises. It is mounted perpendicularly on the top of the entrance door, and periodically send the data of number of visitors to the central server. Central database collect the data from each of the store and compile reports showing the historical trends, allow user to do comparison and integrate with sales data for the sales conversion. Users can login to the software and view the reports anytime at any place or export the data to other business system.
People Counter 3D Plus is fitted on the entrance for each store. and It would required only one Cat5e cable connect from the counter to the back office router via POE injector, which would combine both network and power cable. Our 3D plus is a standalone computer unit which will carry out video analytics, hence no PC is required in the store. In order to convert what camera see into the data and view in the reporting format, that can be transmitted over the internet, to the central server.
A stable internet connection is vital, to be able to transmit all of this data over the internet. And the data would usually transmit around 15kbps every hour. Accuracy audit video (approximately 25mb per video and 3x videos would required for tuning purpose) would only transmit to the server for tuning and reporting purpose, and it would stop sending to the central server after the counter has been verified.